Part One: Home to Hollywood to Vegas
In the summer of 2014, we sent two best friends on a road trip of a lifetime across the United States. But was America ready?
I remember the first time I heard Bob Dylan sing the line "He not busy being born is busy dyin'." A sudden rush came over me. It was like a slap to the face of the soul, an awakening, a revelation, an invitation for the senses to wake up and remember that they're still there and that they need to feel alive.
The words rang through my ears and rattled in my mind. I promised myself I'd always remember them and keep them in my thoughts for anytime I allowed myself to become complacent about being alive, or for when I'd forget how quickly the years move along through time.

THE ADVENTURE BEGINS
Inevitably, the daily grind that wears us all down piece by piece on those hustle-and-bustle rush-hour commutes — packed in like cattle in pinstripes, wearing faces of despair, questioning whatthe hell we're actually putting ourselves through all of this misery for — it got to me. Although I had always been up for adventures and journeys and dreams, I too had become one of the cattle (albeit one dressed in jogging bottoms and steel-toe caps), and on one particularly miserable wet and cold District Line journey from east to west, crammed among the sweaty armpits of the city's fat cats, those lyrics wailed through my headphones again.
I just so happened to be reading Jack Kerouac's highly influential and semi-biographical novel "On the Road," the tale of adventures and experiences criss-crossing across America, for the third time. A truly era-defining tale for the post-war beat generation and for all counterculture generations to follow. Now it was time for me to experience this lust for life, traversing that sprawling country where anything was possible, where everything can come true and the "American Dream" can be achieved by anyone … perhaps even a Londoner with some time on his hands who was currently lost in thought on the tube. Adventure. Yes! That's what's been missing. That's the medicine and the answer, and who was I to stand in the way of it? Onward I go…
Of course, as with any great adventure, the experience is always enhanced by a like-minded free spirit. My good friend and fellow long-haired adventurer, Darrell, immediately and optimistically joined me on my plans. Excellent!  Within a week we had booked our flights and talked non-stop about all the places we wanted to see and the crazy things we wanted to do. What we didn't know at the time was just how crazy some of those things were really going to be.

Diary entry: August 14th-
"Went and met Dal at Upminster station and headed to the airport. Nice to not be going to work alongside the usual faces! First mistake: allowing Dal to organize the route! Ha ha. Ended up getting the Heathrow Express when we could just as easily have sat on the Piccadilly line! No worries though, the laughs have started already. We have a breakfast beer and head for Philadelphia."

Although we were only in Philly for our connecting flight we, of course, had to have a Philly cheesesteak! Being that this was one of the only things we had actually planned to do, we did it with as much enthusiasm as we could muster … all while singing The Fresh Prince rap!
Within a couple of hours, feeling suitably stuffed, we got on board another plane for a further five-hour flight to Los Angeles, California. The City of Angels was calling. The home of Hollywood glitz and glamour, the debauchery of the rock 'n' roll scene on Sunset Strip, the hippy idealism of Laurel Canyon, and the sun, sea and surf of Venice beach. Having dreamed about what California was really like since I was a child, it became everything I imagined and more.
We got a cab to the apartment we'd be staying at for the next four days or so. I immediately hit it off with the cab driver who told us our accents would go down a treat, something we were of course happy to hear! We were located right off the Sunset Strip, so when we got up in the morning, we took a walk to the top of the street. It was pretty amazing to be looking right at the world-famous Chateau Marmont. The sky was blue, the sun was hot and there wasn't a cloud in sight. To our right were the Hollywood hills. We could see Griffith Observatory in the distance and it was all becoming so real.
For me personally, I had a lot of things I needed to tick off my list that were all based in and around LA. Being a huge fan of the '60s West Coast music scene, I had to make certain pilgrimages. One of the first things we did was take a walk up to Laurel Canyon, famous for being the epicenter of all things psychedelic in LA and home to Jim Morrison, Joni Mitchell, Mama Cass, Crosby Stills and Nash, and countless other amazing musicians of the time. We went to the Canyon Country Store (referenced in the Doors song "Love Street") and we got to see Jim Morrison's house. We also attempted to climb the canyon.
We took the long and arduous trek up the side of a mountain — the wrong mountain initially and also probably not an actual mountain. At the top, when we got to see the view from the Griffith Observatory, it truly showed the scale of Los Angeles. Unlike London where everything is crammed into a small area, LA is spread far and wide. As I turned and looked inland out toward the Wild West, it truly put into perspective the size of the journey ahead of us. No wonder people laughed when I thought we could walk to Venice Beach from Hollywood!

AN OLD FRIEND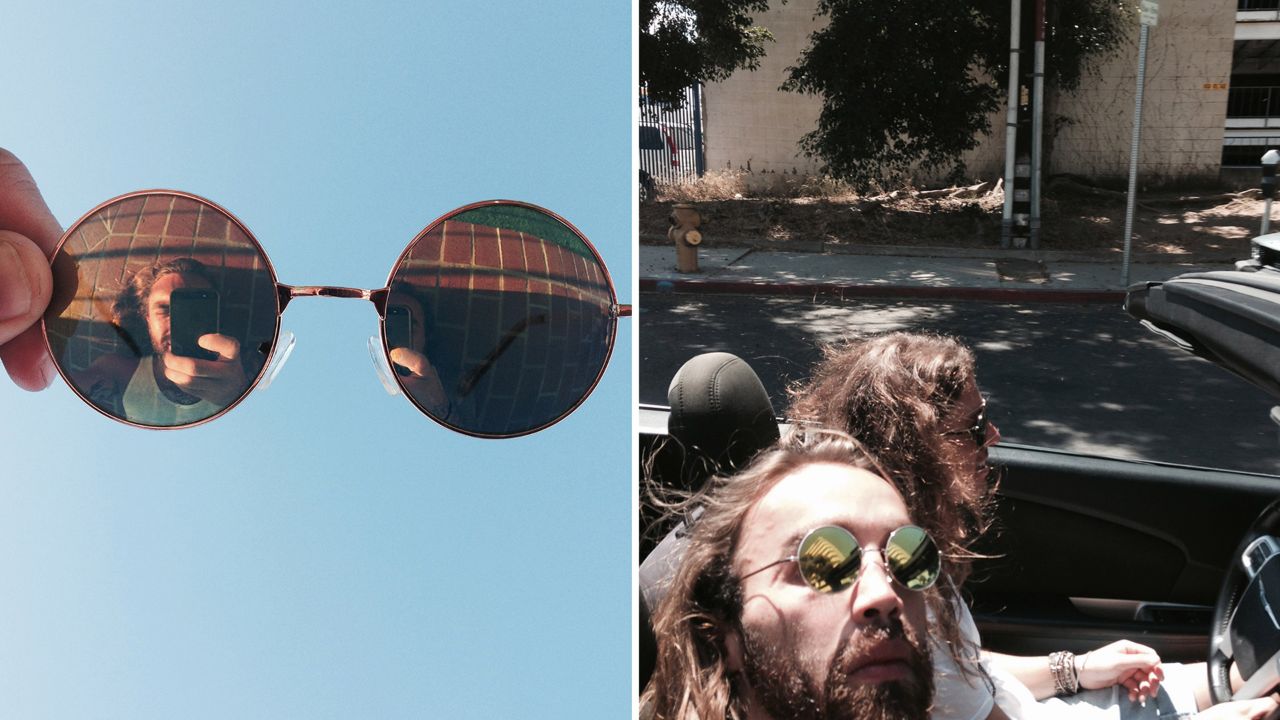 Fortunately for us we had a friend in Hollywood, an affable lunatic named Dina. Dina really made this whole adventure take shape and made it even more fun than we could have imagined. Without her there to guide us, we would have been lost — many times and in more ways than one. She drove us around and took us to all the cool bars and clubs: The Viper Room, The Roosevelt Hotel, Chateau Marmont bar. She took us to a pool party in Hollywood Hills, a famous music manager's house and, just like in the films, there were beautiful people and red cups everywhere! By the end of the night it was just me, Darrell and Dina dancing alone in this huge mansion. We secretly wanted to be the center of attention, and we were! Quite surreal. She even put us up for a couple of nights and was, without question, the third member of this very big adventure.
After our few days exploring with Dina, we headed down to the ocean at Venice Beach, home and birthplace of skateboarding legends the Z-Boys. With the weather still being beautiful, we spent our time here in the sun, taking morning runs along the shore up to Santa Monica Pier, checking out the famous canals, swimming in the sea and attempting to ride the waves, seeing dolphins and getting ourselves a couple of tattoos to remember it all. Darrell got an amazing piece of ink, a real conversation starter — a coat hanger on his leg! When people ask him why he has it, he replies, "So I have somewhere to hang my coat!" Amazing!
As much as we'd have loved to spend more time in LA, it was time to move on and see more of the states. The Pacific Coast Highway was calling us and the only apt way to travel our way along the winding California coastline was in a powerful convertible. Onward to San Francisco we went! In tow, we took our buddy Dina and her friend Patty. It was an 8-hour drive mixed with stunning views of Malibu, getting lost in the canyons and ending up on dirt roads, London rock 'n' roll playing through the speakers, terrible directions from the girls and multiple pit stops at 7/11′s.
When we eventually approached the San Francisco Bay Area (nighttime by this point) and we saw the bright lights of the whole city, the Golden Gate Bridge right in front of us. It wasn't a case of us missing what we left behind some 380 miles south but of buzzing excitement for what was lurking in those rolling hillside streets.

Diary entry: August 23rd-
"We all drove down to Fishermans Wharf. I drove in SF! Woo! Lovely drive. We saw sea lions, Alcatraz out in the distance and the beautiful Golden Gate Bridge. Dal then took a turn driving, and we went to Haight-Ashbury — another pilgrimage ticked! You could feel it was a hippy area and see it, too. One guy was just walking naked down the street doing his own thing! Fair play. Headed out in the evening to go for some drinks on a rooftop hotel bar — great views of the city. Then, somehow, ended up downtown in a hip-hop club with me and Dal doing "Baggy Trousers" by Madness. Ha-ha. Went down quite well actually."

After only a few days in this wonderful city of creativity, it was time for us to move on again. We had to say goodbye to the girls (for now). As they headed back down to Hollywood to carry on with their lives of partying with celebrities in huge mansions and sunning themselves in the beautiful Southern California sunshine. We headed for a rather harsher environment: Nevada.
After eight hours of driving through the desert — past ghost towns and old abandoned mines, donkeys walking along the highways and mirage-like communities — we arrived in Las Vegas, The City of Sin, the home of the Rat Pack, showgirls, debauchery, gambling, opulent hotels, garish decor and … money, of course!
The sun was setting as we finally spotted the city on the horizon. With the desert behind us, this was the oasis that was about to quench every kind of thirst we'd had for a while. Darrell, having been to Vegas before, told me it was like Disneyland for adults. Seeing as I'd never been to Disneyland anyway, I just knew it was going to blow my mind. Of course, it also blew my wallet.

Diary entry: August 31st-
"We survived! Decided it was high time we got back in the car and moved on. As I write this, we're driving through this amazing arid desert. Not too sure about where we are exactly, but I think it's Death Valley. Can't believe we're in Death Valley! The roads are ridiculously straight, cutting straight through the landscape like a tarred scar, and the telephone poles on the roadside are like stitch marks. Tumbleweeds, too. Long drive ahead before we reach our next destination."

We stayed at the rather charming Hooters Hotel. Go there for the chicken wings, but stay because the MGM is way more expensive! Funnily enough, the rooms here were cheaper (and a lot cleaner) than some of the motels we'd stopped at along the way.
We headed out onto the Strip almost immediately. There were characters everywhere. Not just interesting people, I mean actual characters. We saw Iron Man, Thor, and a myriad of other action heroes and heroines pimping their images for tips! All part of the Las Vegas experience, I guess.
The bright neon lights lit up every street and every building. Music played from out of the bushes and the famous fountains outside the Bellagio danced to "Hey Big Spender." Truly spectacular. Everything was a show.
Hours passed and it was time to move on again. Albeit that we were slightly broken (and a little worse for wear), there were more places to see and the clock was ticking.