Nostalgic Route 66 Road Trip: Santa Monica to Albuquerque
Story and photos by Joe Rogers

Joe is a freelance travel writer and photographer based in Denver, Colorado.

On the "Mother Road," you'll find welcoming smiles and the guardian angel of the trail.
I stood facing the California morning sun as it cast its rays on the Pacific's blue-green water below me. There were no lines for the Ferris wheel, no swarms of visitors or art peddlers yet at the Santa Monica Pier in Los Angeles County. My companions consisted of a few fishermen, a handful of other early risers out for a stroll or morning coffee. I took a deep breath of the cool, salty air. Somewhere out there beyond the pier, away from the crashing waves I loved so much, was Route 66, a road so etched into my daydreams it was easy to turn my attention to the east. Los Angeles is typically the end of the trail, but for me, it marked my journey's beginning.
Nicknamed "The Main Street of America" and more famously the "Mother Road" by John Steinbeck, Route 66 is one of the world's most legendary highways. Its 3,940 kilometres stretch from Chicago to Los Angeles and run through the heart of America. The highway's roots are entangled around stories of hardship, hope, family, survival, good times and bad times. Destitute families in the 1930s used it to escape the Dust Bowl in search of a better tomorrow. More recently, it has served as a gateway for family vacations. Over time, Route 66 fell into obscurity; yet today it is experiencing a welcomed revitalization.
For the first leg of my trip, I'd driven as much of the "old road" as possible into West Hollywood, through Pasadena, and eventually north to just outside of Oro Grande, California. Gone were the cool ocean breezes and swaying palm trees. Out here it was hot, and Elmer Long's Bottle Tree Ranch was surrounded by blowing tumbleweeds and desert. Long's deep smoker's cough occasionally interrupted his stories of working at the local concrete plant, land investments he'd made and scouring the desert as a kid with his dad while he collected discarded bottles. "Those four blue pieces on top of that pulley over there, that's my favourite piece. I collected those with him back in the '50s."
Thousands of glass bottles adorning tall metal poles glistened in the afternoon sun, creating a maze of colourful madness. "I've done something out here, that's for sure," Long chuckled amid his roadside oddity. "Shoot, I've still got lots to do, too, just no energy to do it." (Note: Elmer passed away shortly after this interview.)
The day grew hotter so after Oro Grande I made my way to Barstow, where I sketched my course for Albuquerque, New Mexico. I'd planned only a few stops. I wanted to leave most days up to chance.
During my drive, time slowed, lonely stretches of open road extended for miles, strangers met over coffee and talked together like family. Twenty minutes became two hours at the Bagdad Cafe in Newberry Springs, California. "Shaggy used to make coffee so strong your spoon would stand up straight," seasonal town local Duane Wilson said. We laughed as hard as the wind blew outside. In Amboy, California, the desolate pastel-coloured buildings blended into the sun-bleached Mojave earth and sky. A scruffy burro greeted me on the street in Oatman, an old mining town turned tourist stop up in Arizona's Black Mountains. I was transported back to the 1940s at the kitschy El Trovatore Motel in Kingman, Arizona; and the high-desert town of Seligman made me feel right at home.
It's where Uschi Fuchs, the delightful owner of Seligman Sundries, served up strong black coffee to us travellers talking about how "there's just something about being on the road that tells you so much about life." It's where I met Ravi Shetty, a young man who loved to talk basketball but also is a son learning to manage his late father's Supai Motel. "It's not like I can call him and ask how to do something. But I'm figuring things out on my own." And it's where John Delgadillo, a very happy-go-lucky guy running his own late father's Snowcap Drive-In, generously offered me a ride through town in his 1936 Ford parked out front.
Seligman's welcoming smiles, charming personalities and unwavering resolve to remain relevant were contagious. Most of that resolve emanated from its longtime barber—also John Delgadillo's uncle—and the "Guardian Angel of Route 66," Angel Delgadillo. I met him outside of Angel and Vilma's Gift Shop as he dismounted his bike. Even early into his 90s, he rode to the shop when needed, moving with a quick, energetic spirit.
"There were 9,000 automobiles that would go through town each day," Angel Delgadillo recalled as we sat together. Thousands of visitor photos filled the small barbershop room's walls. "Then on September 22, 1978, all the traffic went to Interstate 40. The town died for ten long years. We were forgotten."
By the early 1980s, Delgadillo was still cutting hair five days a week, yet he and the town continued to struggle. The few travellers who did stop by would share with him fond memories of family trips along the old highway when they were kids themselves.
"I heard it over and over," he said. "Men and women told me it was the highlight of their summer. They missed the America of old. We the people. The road. The buildings. So I got an idea. Here is how we get our economy back."
That idea was to ask the state to designate Route 66 as historic from Seligman to Kingman in hopes of reminding the travelling public of a more nostalgic, slower and scenic route in Arizona. Over the next decade, the Historic Route 66 Association of Arizona was formed. Delgadillo wrote letter after letter, and he'd talk to anyone who'd listen.
"Our efforts were ignored, and it was a struggle, a real fight from day one," he said. "But finally in November 1987, they designated U.S. 66 from Seligman to Kingman as 'Historic Route 66.' We, the people, saved it. This little town saved Route 66."
Two days later, after a long drive into New Mexico, the first part of my journey had come to an end after 1,287 kilometres. In Arizona I'd stood on the corner in Winslow, spent a night at the famous Wigwam Motel in Holbrook, and driven across miles of beautiful scenery past ghost towns, trading posts and family-owned cafés. As I found myself under a darkening New Mexico desert sky just west of Albuquerque's twinkling city lights, my thoughts turned to Angel.
I remembered him sitting in his father's old barber chair, his eyes wide, his laugh full and strong, and every ounce of passion for the road still burning bright. "You don't know what you have until you lose it," he'd told me that day. Maybe that's what driving Route 66 is all about—the sense of community and how good America can be when people come together. History is expressed by those who live it, and just like Route 66, our story will endure as long as we remember what we have together.
 
Choosing the "old road" opens up a world of appealing characters and beauty along the "Main Street of America."
A weekend road trip through Illinois farmland leads to classic diners, drive-ins and big city splendour.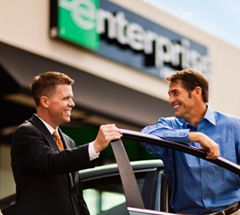 Start A Reservation
Enjoy fast and easy car rental bookings from Enterprise Rent-A-Car at one of our 7,200 branches in cities, airports and neighborhoods near you.
Reserve Now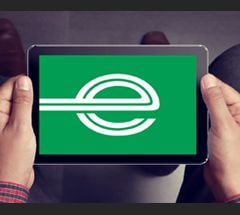 Email Offers
Don't miss an excuse to hit the road: our latest offers delivered to your inbox.
Sign Up