Nostalgic Route 66 Road Trip: Albuquerque to St. Louis
Story and photos by Joe Rogers

Joe is a freelance travel writer and photographer based in Denver, Colorado.

Choosing the "old road" opens up a world of appealing characters and beauty along the "Main Street of America."
Walking through the Sandhills Curiosity Shop's swinging door was like entering a portal into a different universe. Behind me was a quiet and dusty Oklahoma town with sunbaked sidewalks and a few pickup trucks idling past tiny, empty-looking businesses. In front of me, a claustrophobic madhouse of posters, road signs, knick-knacks, half-empty liquor bottles and a white-bearded, ponytailed man dressed in blue overalls with no shirt loudly playing guitar to an audience of one—himself.
"Welcome, man!" he shouted into the mic only after finishing his song. "I'm Harley. Feel free to take a look around. You can drink. You can smoke. There are no rules or government regulations here, man."
I sat down in a wooden chair as he immediately strummed the guitar into another tune.
Harley Russell's place sits just south of old Route 66 on a lowly-looking street corner. His weathered brick building was plastered with signs. One hand-painted and running the length of the wooden awning read, "Welcome to Erick, Oklahoma. The Redneck Capitol of the World. Yee-Haw!" The place stuck out like a fascinating sore thumb of appealing wonder. And as I quickly learned, the same could be said of Russell's one-of-a-kind, eccentric, and sometimes crude, showmanship personality.
"I don't care what's right or wrong; I'm gonna love you all night long, baby," he laughed after a quick gargle from a random Jim Beam bottle he used only for "my mouthwash."
I'd driven my rental car out of Albuquerque, New Mexico, three days earlier heading for St. Louis, 483 kilometres away, on the middle section of my journey along legendary Route 66—the "Main Street of America." My conscious effort to stay off Interstate 40 as much as possible, choosing instead to coast along at a slower 55 mph on the old road, had been rewarded with a treasure trove of character, individuality and beauty wherever I stopped.
My first stop before leaving Albuquerque was Lindy's Diner, a quaint corner street diner laying claim to a 90-year-old history on Central and Fifth near Old Town. Ninety-seven kilometres later came Clines Corners Travel Center, a middle-of-nowhere 1930s Arizona way station for a quick fill-up on gas, souvenirs and thick homemade fudge. I shop-talked car restoration with fellow hot-rod junkies at the Route 66 Auto Museum in Santa Rosa, New Mexico. The town's deep natural spring known as The Blue Hole was the only relief in sight from the growing desert heat. Next was Tucumcari, New Mexico, the self-proclaimed "Heart of the Mother Road" town known for its neon, colourful murals, the kitschy Tee Pee Curios and the famous Blue Swallow Motel.
Owners Nancy and Kevin Mueller welcomed me to their charming 1940s style motel with wide smiles and a walkthrough of my room before I "officially" checked in on a paper registry. The 12-unit pink stucco motel, complete with carports, rotary phones and a vintage Bonneville parked outside was a nostalgic return to "the good old days," when neighbours said hello and shared stories well into the night. A sign bearing the greeting of one-time owner and legend of the highway, Lillian Redman, still welcomed travellers to the motel reading, "May this room and the motel be your 'second' home."
"I think people are looking for more authentic places to stay when they drive 66," Kevin Mueller told me as we walked the property. "That's what the Blue Swallow is all about. We've kept things as original as possible because we want people to have the same experience they would have had back in the '40s." My room—No. 11—even had a patch of oil stains leftover from a one-time tenant's motorcycle that he kept parked on the hardwood floor back in the 1970s.
Near San Jon, New Mexico, a once-booming community, now-turned bypassed village of maybe 300 souls, the road turned rougher. I pushed on, steering the car through wide-open rangeland and over narrow one-lane bridges all the way to Glenrio. Its decayed buildings, split between New Mexico and West Texas, were another stark reminder of better times now long gone. In Adrian, Texas, I sampled four types of family recipe "ugly crust pie" at the vibrant Midpoint Café—located exactly 1,833 kilometres between Santa Monica and Chicago. I tore myself away and stopped driving only when I reached Cadillac Ranch in Amarillo. It was a peculiar spray-painted splendour of 10 askew Cadillacs, where couples left their initials and children danced in the fading Texas daylight.
Back in Erick, Oklahoma, I'd left Russell high-kicking and strumming his way through a possessed cover of "Route 66." At the time, I just sat there tapping my foot and singing along, but as my drive continued through the blooming Oklahoma backcountry, the lyrics came alive: Kingman, Barstow and San Bernardino were all behind me. I'd seen Amarillo; Gallup, New Mexico; Flagstaff, Arizona, and Oklahoma City was indeed mighty pretty.
It was all somewhere back there now, though, along the winding highway forever intersecting and running parallel to the culprit of its own demise. In front of me was Tulsa, the Blue Whale in Catoosa, the best $3 pastrami sandwich in Riverton, Kansas and, of course, good old St. Louis.
"If you like music you gotta go to Blueberry Hill when you get to St. Looey," I remembered Russell insisting when the city finally showed itself. "You gotta see a show in the Duck Room. Chuck Berry played there, man."
I promised I would.
I made good on that promise on a rain-drenched evening after cruising through the hip Delmar Loop neighbourhood. I was exhausted—the combination of a long drive and the three-meat barbecue combo at Salt + Smoke restaurant had taken its toll—but enjoying one more glorious show along America's legendary main drag was worth every moment.
 
On the "Mother Road," you'll find welcoming smiles and the guardian angel of the trail.
A weekend road trip through Illinois farmland leads to classic diners, drive-ins and big city splendour.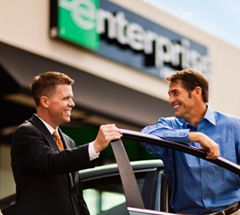 Start A Reservation
Enjoy fast and easy car rental bookings from Enterprise Rent-A-Car at one of our 7,200 branches in cities, airports and neighborhoods near you.
Reserve Now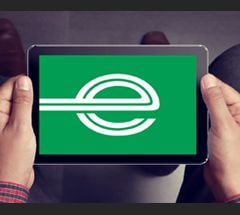 Email Offers
Don't miss an excuse to hit the road: our latest offers delivered to your inbox.
Sign Up